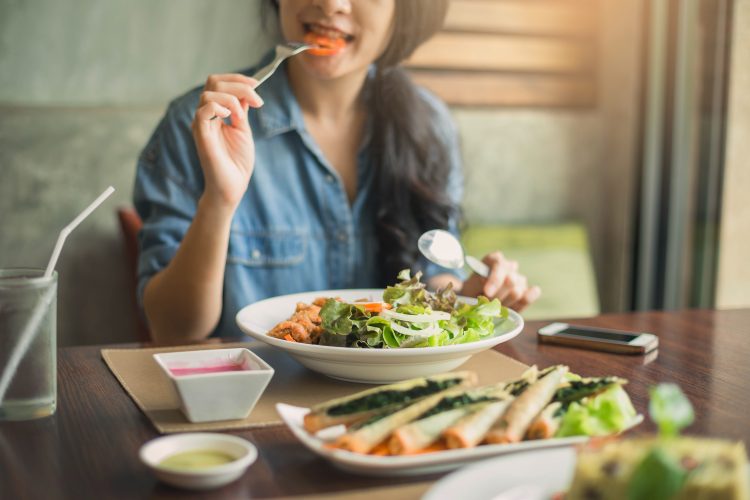 What are health conscious consumers looking for in 2022? – New Food
New research from food broker, Presence, has revealed five key trends driven by the health-conscious consumer movement, including gut health and an uptake in mushrooms. Find out about all five here.
A new trends report, commissioned by independent natural food broker Presence, reveals the top food, beverage, and health and wellness trends for 2022.
The report, conducted by SPINS, states that in the past few years, there has been a shift as consumers have become more focused on 'better for-you' products and prioritising their health and wellness needs. Consumers are also becoming more eco-friendly; conscious of the way they shop, consume and even dispose of everyday items.
"The new generation of consumers is becoming more educated, more adventurous, and more open to trying different products and services," said Tracy Miedema, Vice President of Business Development at Presence. "We're seeing consumers proactively seek food and beverage brands that promote health and mental wellness, choosing natural products and supplements for holistic nutrition and looking to make a positive impact on their communities and the environment."
There are five areas Presence has identified as key trends this year and we've outlined these below for you.
1. Supplements for stress and sleep
The pandemic has intensified the level of stress a consumer faces on a day-to-day basis, and as a result, many people are turning to vitamins and supplements to support their mental health. The study found that vitamins and supplements saw a 43 percent year-over-year growth on Amazon alone.
In The US, a study from the American Psychological Association found that nearly eight in 10 adults (78 percent) consider the coronavirus pandemic to have been a significant source of stress in their life, and two in three (67 percent) say they have experienced increased stress over the course of the pandemic.
"More than 70 percent of consumers are concerned that stress and anxiety are having an impact on their health. In turn, consumers are increasingly seeking food and drink products that can have a positive impact on their overall health and mental wellbeing," said Carla Hilhorst, Executive Vice President R&D Foods & Refreshment at Unilever.
Although there are many drivers for the growth vitamins and supplements has witnessed, there was a significant increase in commodities that helped with stress and sleep. In a year-over-year growth report shared by Presence, results show a 30 percent rise in stress relief and sleep support products.
Consequently, consumers are seeking products that include ingredients such as magnesium, MCT and/or ashwagandha to help with relaxation, sleep and stress.
There are many factors that lead to a lack of sleep, including stress and poor diet. Studies show that eating badly can lead to a lack of sleep, which can in turn contribute to stress, and result in a vicious cycle between the three.
2. A focus on gut health
As consumers become increasingly aware of the influence a healthy gut can have on areas of their life, the probiotics category has continued to flourish, increasing outside of supplements and into new food and beverage formats, the study suggests.
In 2020, the global probiotics market was estimated to be worth $54.77 billion and, according to Presence, is steadily growing at a compound annual growth rate (CAGR) of 7.2 percent from 2021 to 2028.
The gut is an area in which Unilever is also placing focus, as it has recognised the public's increasing awareness of the gut microbiome's role in our overall health and wellbeing. As result the conglomerate has partnered with Holobiome to uncover ingredients that have a "prebiotic potential" and could improve metal wellbeing.
More and more research into the microbiome and health is being uncovered, with a recent study finding a link between depression, autism and mood disorders.
Moreover, in this month's (March 2022) British Medical Journal a link between certain specific gut microbiome populations and pancreatic ductal adenocarcinoma has been made.
"The research demonstrated a specific link between the pancreatic cancer patients and their microbiome, presumably because of the altered level of pancreatic juices caused by the cancer affecting digestion and nutrient availability for the gut microorganisms, and the article concludes by stating that this offers a non-invasive, robust, and reliable faecal based screening procedure," Andy Muirhead, ALS's Company Microbiologist, commented.
"Whilst it is probably true that in this instance the specific microbiome pattern is a consequence of, rather than the cause of the disease, it is becoming increasingly apparent that many of our 21st century illnesses such as diabetes, obesity, IBS and Crohn's disease may be influenced, or in some cases caused by our own microbiome."
If it's proven that a healthy microbiome can prevent certain diseases, then Muirhead suggests that food testing in the lab may start to look very different.
"As well as screening for pathogens, spoilage organisms and indicator organisms, we may also have to make sure that certain foodstuffs have the required microorganisms (probiotics)," he noted. "And we may also have to ensure that foods have the requisite levels of fibre and nutrients (prebiotics) to provide the fuel to maintain a healthy microbial gut population. This is already a requirement for some probiotic yoghurts but in the future, this may be expanded across a much greater range of both fermented and non-fermented products."
Probiotics are known to be good for gut health and are usually found naturally in various types of fermented foods such as yoghurt, kombucha, pickles and kimchi. In addition, carbonated drinks with digestive benefits – prebiotic, probiotic, and postbiotic – are claimed to be better for the digestive system and boost immunity.
Shelf-stable energy drinks and other functional beverages containing probiotics have been top sales drivers, seeing 4,357.4 percent growth, according to Presence. Shelf-stable soda and carbonated beverages containing prebiotics are up by 12.8 percent, and are predicted to grow in popularity.
Presence has also found that health-conscious consumers will pay a premium on products that not only ensure their health and wellbeing, but also support social responsibility and sustainability. Many consumers have taken an interest in environmental health and are purchasing products that support the future they want to see. Continuing to seek 'cleaner' ingredient profiles, consumers are now watching how companies are working towards a creating a healthier planet.
3. Regenerative agriculture
Since 2019, business interest in regenerative agriculture has spiked by 138 percent, the study states. Regenerative agriculture is a movement that promotes biodiversity, sequesters carbon, and allows living systems to work in harmony.
Tactics that prioritise soil health to achieve optimal level of nutrients for crop production, no-till farming (an agricultural technique for growing crops or pasture without disturbing the soil through tillage), the inclusion of cover crops on farmland, and traditional animal husbandry will help make the food and agriculture sector become more responsible while simultaneously appealing to environmentally-conscious consumers.
"Don't be surprised if you see labels touting the benefits of food products sourced from farms that utilise this method of farming," a Presence spokesperson suggested.
This is also perhaps why we're seeing an uptick in upcycling across the world – a movement in which perfectly safe and edible products are saved from being thrown away because they are not aesthetically pleasing, and are instead used to make food or other things
4. Sustainable packaging options
Shoppers are paying close attention to the environmental impact of what they purchase and are supporting those that align with their values and the issues that are important to them. Environmental waste remains a top concern for purpose-driven consumers, according to Presence. Research has shown that consumers would even consume edible packaging to help the environment.
Driven by tight sustainability goals and consumers wanting greener brands, manufacturers and retailers are having to rethink their materials. Throughout packaging supply chains, there has been a 23 percent increase in recyclable pod/cup systems, a nine percent increase in aseptic cartons, and a two percent increase in using glass, according to Presence's research.
As packaging continues to factor into purchasing decisions, the food broker company believe we'll also see innovation surrounding zero waste packaging.
5. A love of mushrooms
With continued double-digit growth in the natural retail channel, mushrooms grew in sales by 16.1 percent, according to the study.
Retailers are stocking a variety of new mushroom products, and fungi are even featured in seasoning blends, ready-to-drink beverages, snacks and coffee. Supplements that contain mushroom as a key ingredient in the form of capsule, powder, tinctures, or teas are also becoming more popular.
One reason for this could be because of the increase of the vegan diet spreading throughout the UK, US and more countries.
Various types of mushrooms also provide different health benefits, and this is another reason for its surge in popularity. For example, certain varieties have been shown to stimulate the immune system, help with healthy blood pressure management, supply powerful antioxidants, increase focus, and support overall wellness, research from Presence finds.
The broker company goes on to state that in 2020, the global functional mushroom market generated $7.98 billion, and by 2030, it's expected to reach $19.33 billion.
Conclusion
Consumers clearly want products that are good for them but also good for the environment too, with natural ingredients, such as mushrooms and magnesium, being popular choices.
Brands working to develop new products should consider the above five categories, as the push for functional food and drink and sustainable practice looks set to remain top priorities.